This Month...
I will be sharing my personal favourites with you...
Inspiration...
THe SoNG of ARCHANGeL URiEL




My Wings of Peace awakened to Creations first light.
Borne on whispers of Gods own out-breath I am opened,
cell by cell to receive the Divine Light of Being.
Light touches Light and I am melted into Oneness with the All.
I hold my Peace within my stillness, and offer that you join me in this silent embrace.
Within this silence, there is all you need to know.
The Soul may be immersed in Truth, washed over in Baptism of Light; and anchored in Bliss.
Beloved; I sing a sweet song, but each note carries a deeper purpose to serve Mankind .
My Peace has seen the raw and bloody battlefield.
My stillness has walked amongst the angry hearts that would flail and lash.
My Light has brushed soft upon the cheeks aflame with hatred and fear,
softening and cooling the fire within; transforming tears of rage to those of gratitude.
My silence has stilled the rattle of weaponry that man has turned upon man.
And within this maelstrom wrought of this fear and anger by mans own hand upon Himself,
brother upon brother, there is indeed a Peace which cannot be denied.
That Peace resides within each and every Heart,
a bright flickering Light of hope which transcends everything.
My song carries the taper which re-ignites that tiny flame;
a re-minder that Peace is your Divine birthright and the state the soul has longed for throughout Eternity.
Embrace your Peace Beloved, and sing it back to me,
that we may touch those Hearts in Unity.


Originally channelled 20.11.07 For Archangel Uriel
Available as a A4 print , hand finished with my special materials ready for framing @ £15 P&P is usally £1.50 per single delivery UK or £5 overseas .
C6 cards with coordinating envelopes £4 each plus P&P £1.50 per single delivery Uk
C5 cards with plain ivory envelopes £7 each plus £1.50 p&p

Payment by BACS or Paypal thank you x
YOU MAY CONTACT ME BY E-MAIL everydayangels@btinternet.com or PHONE 0115 9856878
Join my Facebook following at alison.knox.angels for pretty much daily random but relevant twinklings!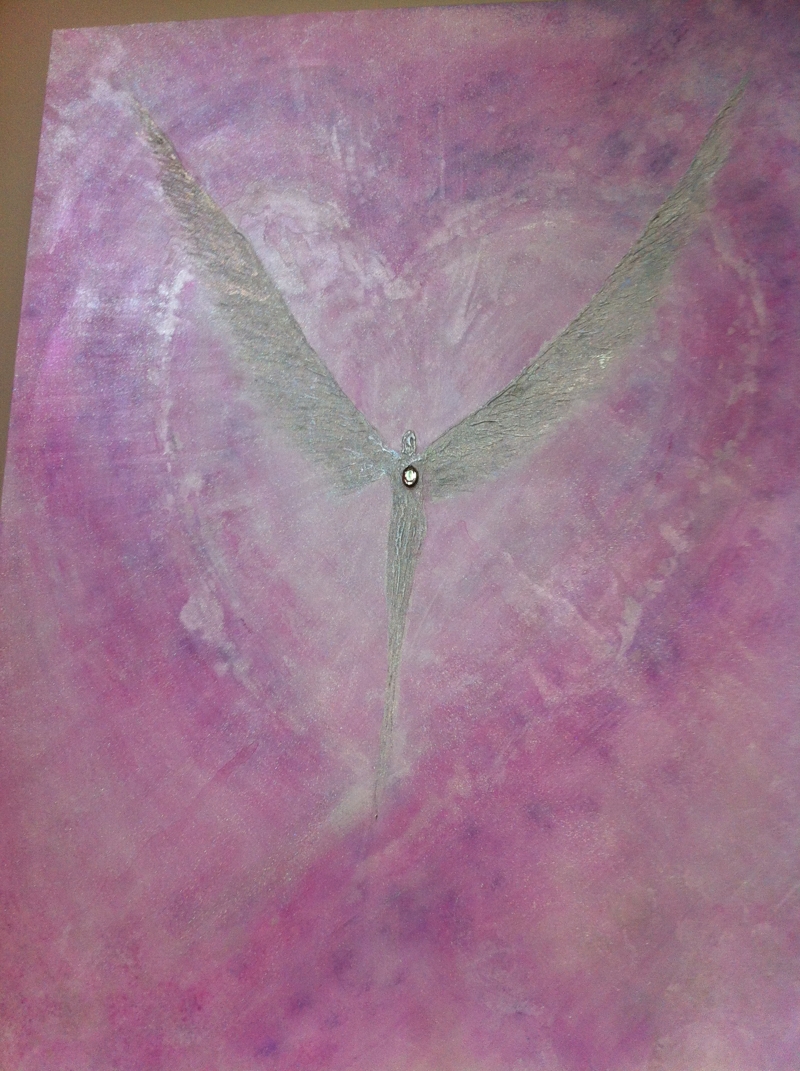 This painting is 4ft x 6ft and it was created especially for an arts project ~ "PEACEBUILDERS" ~ here in Nottingham on 6th May 2017. It will be continuing its "tour of duty" for 3 weeks, on display at Westbridgford Library from 8th June 2017 with other material from the PEACEBUILDERS project.

In the meantime, I took it with me to Gorton Monastery on 28th May as part of a tribute Service to the 22 souls lost to the Arena bombing. The Archangel took its place where visitors could spend time with it quietly and personally, then when we delivered the Service, I was able to read the woords to the gathering, as the angels energy and light enveloped us all in a true embrace of peace. It will remain at gorton for one week until I colelct it on Sunday 4th June.

Although the original message was channelled in November 2007, I do feel it has just ben biding its time, for the moment when its meaning could be most profoundly felt and understood.

I am curious to find out where the angel will eventually go, as of course they all must fly off. . . . . one day.