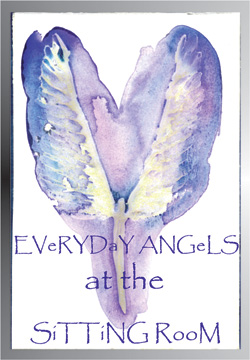 "I am an artist.
I have my work and my passion.
My art is not what I "do" it is who I am.
I do what I love and I love what I do.
There are no days off from being who I am, or doing what I do.
Through my art, I honour and uphold all that I am as best I can, without compromise.
Through my art; the Light of Humanity and the Light of the Divine are Unified."
I AM SO SORRY I AM UNABLE TO OFFER ANY PERSONAL SITTINGS UNTIL CURRENT RESTRICTIONS ARE LIFTED ~ THANK YOU FOR YOUR PATIENCE AND UNDERSTANDING 31/08/20

Welcome to the warm embrace of the Divine at the "Sitting Room", in the company of EVeRYDaY ANGeLS and Alison.
" I am so delighted to now be able to offer my services as an artist, for personal sittings.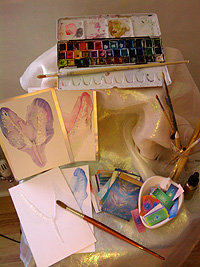 Just you; me; the angels (and tea!), . .. . a blissful time together, during which; in my own inimitable style,
I will embody the expression of your very own angel through my brushes and paint box.

The magic will simply flow!

Each piece will be entirely unique; personal to you.

All you have to do, is to choose the "unborn" angel you would like to work with, and I will invite you to a choose 3 angels from my own card deck, this forms the narrative of their message and then 3 of my own insirational word cards, which form the bridge. The angels and I will do the rest. When we are finsihed I will ask you to choose one of my special feathers to anchor the moment into your consciousness.

As I work; you can simply relax into a beautiful, sacred, safe space. In the ambient softness, of angel light, crystals, fragrance and sound, for a while,
the outer world will seemingly not exist.

Bliss will prevail!

Each painting is created as a watercolour, mounted on an A5 card, ready to pop into a standard size frame (once it is safely dry!)
COST: £150 for a 60 minute sitting (extended sitting time is available at £50 per hour. )

If you would like a personal consultation without the painting, I can offer 60 mins at £120 or 30 mins at £60. You will take away with you a channelled message written with my silver pen in violet ink on sparkley paper. You may return to the words of the angels time and time again for insiration, reassurance, courage and uncoditional love.

Alison Knox - Divinely Inspired Artist
By appointment only
At
The Sitting Room
331 Haydn Road, Nottingham NG5 1DG
0115 9856878
e-mail everydayangels@btinternet.com

I am also able to offer a Gift Voucher for those who would like to share the gift of a sitting .
Payment accepted by cash, cheque, Paypal, or bank transfer. Thank you xx

TESTIMONIALS

"Thank you for a beautiful and comforting experience, and for you added gifts x "
KO July 2014

"Yet again you have created an experience to enable the wisdom of The Pearl to be revealed. Your very comfortable and welcoming Sacred Space moves beyond Time and allows a stillness, nurturing and sense of BEing held while your creative Magic happens. The end result; a delicate physical presence to quantify the experience in the form of a three dimensional painting giving a depth of colour and twinkle, together with words of Truth, Wisdom and Honesty gifting confirmation, encouragement and expansion of the mind to help magnify and expand intention. My thanks, love and gratitude go beyond measure."
V.E Sept 2011


" The package arrived in the afternoon.my Angel is absolutely beautiful,the colours are perfect, they are my favourite by the way.I immediately fell in love with the painting.what a magical moment it was.Thank you so very much for this wonderful experience."
Love Shalina (in India)

"How does one express the joy you 'feel' on meeting with your 'angelic and spirit self' in the birthing of an angel portrait channelled and birthed by you, your essence, heart and hand.. . . . Your work is priceless, YOU ARE AN ANGEL, and I cannot thank you enough for what was, as precious an experience to me, as life itself. I would urge those that have the same inner knowing that I had, as and when it feels right, to embrace time with you in the Sitting Room. The tea and biscuit, atmosphere and music are all a part of this magical experience…, and when the angel comes….well, those who come to see you will know just how that feels, as although I have used words here as a way of expressing my gratitude, the experience itself surpasses words.With deep appreciation and eternal gratitude for helping me to bring my angel into this world – she and all the other angels that you paint are birthed into this world for great reason.
With love and gratitude, . . . Susanne xx